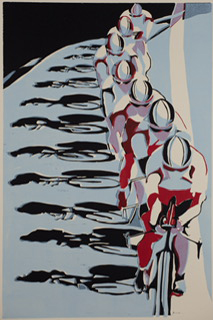 'The Chain Gang'
Linocut, 2014
70 x 50 cm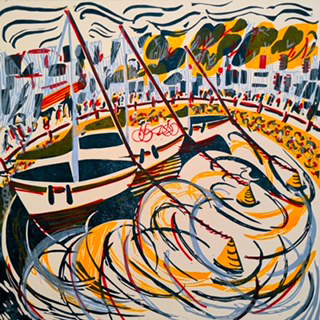 'The Merry Morning of May'
Linocut, 2022
40 x 40cm
Lisa Takahashi is based in Taunton, and makes linocut prints, oil paintings and watercolours.
She is best known for her bold, geometric linocut prints of cyclists. Her figurative paintings are colourful and expressive, and have the influence of British Modernism and French Impressionism in equal measure. All her work is rooted in her passion for drawing and fascination with the shapes, colours and textures found in our modern world.
Her work has been exhibited at the Royal Academy Summer Exhibition, The Royal Watercolour Society Contemporary Watercolour Competition, the New English Art Club, the Royal Society of British Artists, the Society of Women Artists and the Royal Society of Painter-Printmakers.
In 2018 she reached the semi-finals of Sky Arts Landscape Artist of the Year, and in 2022 she was chosen as the expert judge for the Devon heats in Channel 5's Watercolour Challenge.
She writes regularly for the Jackson's Art Blog about drawing, painting and printmaking techniques